Although your VW's key fob is made to last for a very long time, there will come a day when its battery becomes drained or perhaps a time when it malfunctions due to another cause. When you run into this issue, here are all of the steps you need to take.
We've outlined three different ways to get into your Volkswagen based on the model and start system. See below to view photos and video.
On Models With a Lock Cylinder Cap
Some Volkswagen models feature a cap that conceals and protects the lock cylinder on the door handle. If you place your key under the notch at the bottom of the cylinder, you can pop off the cover.


On Volkswagen CC & Touareg Models
On the VW CC and Touareg, you must access the emergency key inside of the fob, since there is no bayonet key on these models. Simply press the button on the side of the fob and the emergency key will peek through. Pull the key ring loop to get it out and unlock the door. To start the car, you must place the full key fob in the ignition slot.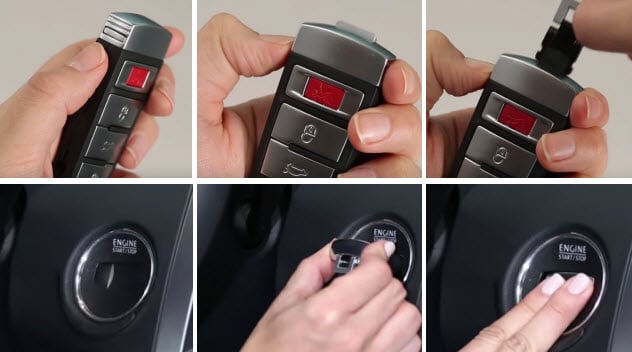 On Other Models With Keyless Access
If your fob's battery is low on power and the push-button start is not working, hold the fob against the steering column like in the photo below and then press the start button by your shift knob.

Please contact Camelback Volkswagen for more details or if you still have issues with your key fob.