The future of Volkswagen is electric! The brand plans to offer a new lineup of zero-emissions EVs known as I.D. and they're slotted to go into full production in 2020. The initial I.D. hatchback debuted in 2016 followed by a second model, the I.D. BUZZ minibus, which was revealed in early 2017.
Now, the third member of the lineup has been unveiled: the I.D. CROZZ, a sport utility vehicle with tons of pizzazz inside and out.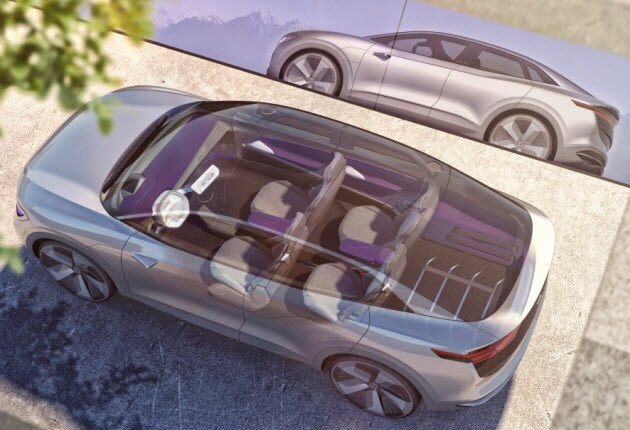 e-Powertrain
The crossover offers as much interior space as the 2018 Tiguan thanks to its smart Modular Electric Drive Matrix (MEB), which encompasses a compact powertrain as well as an under-floor battery and long wheelbase.
The powertrain, which is accompanied by electric all-wheel drive, produces an impressive 302 horsepower and provides exceptional efficiency, with a total range of up to 311 miles on a full charge. The car also provides super speedy charging. VW says you can power the I.D. CROZZ up to 80 percent in a lightning-fast 30 minutes.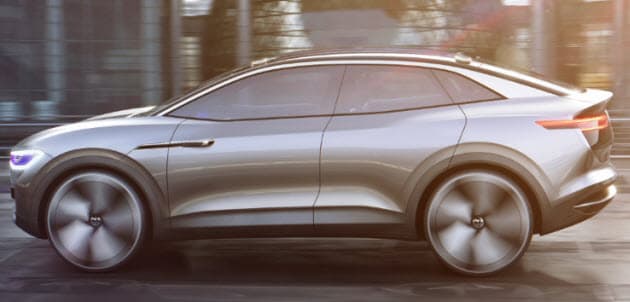 Dazzling Light Effects
The Volkswagen I.D. CROZZ includes interactive lighting that reflects its state. Whether parked, starting up, driving or in autonomous mode, the crossover's lights tell the driver and pedestrians what's going on. For example, when parked it appears that the car's "eyes" are shut, so all you see is a narrow strip of LED lights on the headlamps. Another example is the car's "Ready to move" state, in which the front and rear logos light up, and then a thin white line appears on the front fascia and merges into the LED headlights.
Futuristic Features
I.D. CROZZ will include numerous technologies that take personalization and automation to new heights. Every owner will have their own activation device with an attached digital user ID, which contains personal parameters. When you approach the I.D. CROZZ with the device, it will unlock and activate personal settings, including climate preferences. There's also a large 10.2-inch infotainment interface that can be customized by the driver.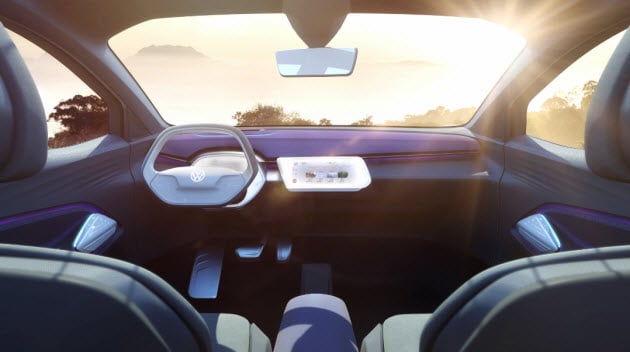 Additionally, five years following the release of the first I.D. models (2025), fully automated driving will be available via I.D. Pilot technology. By touching the VW logo on the steering wheel for three seconds the car will switch to automated driving and the steering wheel will recede, integrating itself into the dashboard. And, whether you're driving in manual or automatic mode, there's a cool augmented reality head-up display that shows speed and navigation details.
We're excited for the day that the 2020 Volkswagen I.D. CROZZ goes on sale in Phoenix! According to Volkswagen, the I.D. concepts closely resemble what's in store for the brand, and its future certainly looks bright.
"If it was ever possible to make a one-hundred percent certain prediction of what the future will look like, here it is. In 2017, we are showing how Volkswagen will be transforming the roadscape from 2020. For us, the three prototypes of this new generation of zero-emission vehicles—I.D., I.D. BUZZ and I.D. CROZZ—mark the start of a design and technology revolution that is going to change individual mobility and the Volkswagen brand forever," says Klaus Bischoff, Head of Design for the Volkswagen Brand.