It can be very overwhelming to find out that you are going to need a new vehicle in the very near future. There are so many different makes and models of vehicles on the market that it can be a daunting process to sort through everything and make your final selection. Aside from buying a brand new home, buying a new vehicle is probably one of the bigger investments that you are ever going to make. Before you decide what you want to purchase you should ask yourself a few different questions. You can easily guide yourself through the process of picking out a new vehicle and make sure that your investment is going to be a wise one. Let's take a look at a few different questions that you should ask yourself when buying a new vehicle.
What Warrants a New Vehicle?
Don't just be tempted by all of the shiny and new vehicles that are sitting on our dealership lot. It can be tempting to trade in your vehicle that is a few years old just to get something new. Wait until the time is right. If your vehicle is in need of some expensive repairs that will cost more than the down payment for a new vehicle, then you might want to think about making the switch. There are motor vehicle accidents that will completely total a vehicle. It isn't always worth it to make the necessary repairs. Think about what your different options are and make a smart financial decision based on the facts.
What is Your Most Affordable Option?
Most people don't have the savings to pay for a brand new vehicle in full. Most people need to use their savings to put down a small amount of money. The rest of the loan for the vehicle will be paid down over the course of a few years. If you don't have the down payment needed to buy a new vehicle, then this isn't the time to pick out something brand new. You may have the down payment but if you don't think you can comfortably pay the monthly payment, then this still isn't a wise decision. You should be able to pay for your choice but also live comfortably. There are other options. You can lease a brand new vehicle. You can also purchase something that is used.
What Types of Vehicles Are on the Market?
The options seem endless at this point. Manufacturers have so many different varieties of SUVs, crossovers, sedans, trucks, minivans and much more. Think about what you need as far as the most important features go. How much seating do you need on the interior? How much power do you need? Will you be towing any extra items behind your vehicle? What kind of technology are you looking for? This will help you narrow down your search and help you find the vehicle of your dreams.
What Are Your Favorite Features in Your Current Vehicle?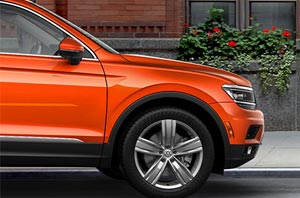 Something that can help ease the transition to a new vehicle is thinking about the features that you currently love about your vehicle. There may be things that you just can't live without now that you have been using them for years. There could also be features that you don't want to include the next time around. Experience will help you make the best choice for a new vehicle.
Take your time when you are thinking about the next vehicle that you are going to select. We here at Camelback Volkswagen know there are many different options to think about. Make sure to keep your mindset practical so you don't over-purchase or pick something out you won't be happy with years from now. Let us know how we can help you throughout this process.