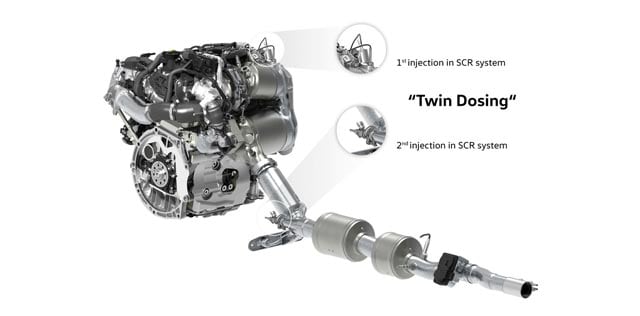 Volkswagen's New SCR Technology Significantly Reduces NOx Emissions
For the past several years, research and development teams at Volkswagen have worked hard to reduce NOx emissions in vehicles with diesel engines. All diesel vehicles built from 2018 onward only incorporate SCR (selective catalytic reduction) technology that helps limit these emissions. Now VW has gone even further with a second generation of NOx emission-reducing technology with its twin dosing SCR system.
Tests Prove Significant Emission Reduction
Measurements involving real driving time emissions indicate that this newest diesel engine technology reduces NOx emission levels by approximately 80 percent when compared with previsions versions of this same technology.
SCR technology uses AdBlue, an aqueous reducing agent that is injected into the engine ahead of the catalytic converter, which ultimately forms a type of ammonia that meets NOx in the catalytic converter. Here the gases are turned primarily into harmless nitrogen and hydrogen emissions. The twin dosing system increases the conversion of NOx gases into these harmless emissions, an important point as NOx emissions are considered carcinogenic. What this means is that the technology incorporates two AdBlue injection points and two catalytic converters, with the second potion o the system installed further downstream to allow those gases that may have escaped from the first point to be captured and processed. Essentially, this means more efficient conversion.
Models to Receive the SCR Technology
Volkswagen will initially incorporate the twin dosing system SCR technology in its 2.0 TDI Evo engines. the first model to receive the new engine will be the Passat currently fitted with the 2.0 TDI Evo along with a 110 kW powerplant. The redesigned Volkswagen Golf that is soon to be released, will also receive the new engine. Volkswagen is expected to incorporate the engine in selected models in Europe this fall with rollout eventually coming to the United States in early 2020.
Want to Learn More About SCR?
If you were previously a fan of Volkswagen's diesel vehicles and had been concerned about emissions, we invite you to come into our dealership to learn more about this breakthrough technology. Our sales staff will be happy to give you additional details about how this technology works as well as when you can expect to buy a Passat or Golf at our Phoenix VW dealership.