Volkswagen Debuts ID.4 SUV
Volkswagen has revealed the ID.4, a sleek and innovative electric compact crossover, intending to mainstream electric vehicles by making them competitively priced and affordable. The Volkswagen slogan underscores this goal, "Where the Beetle brought mobility to the masses, the ID.4 brings e-mobility to the millions, not the millionaires."
Evolution of the Concept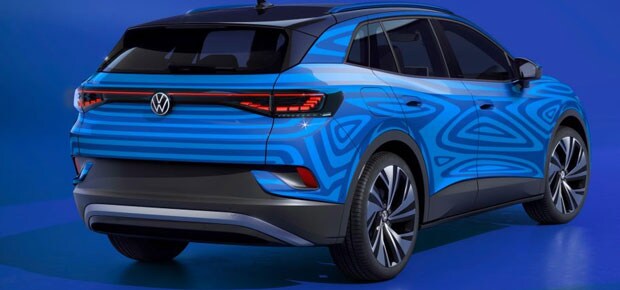 What eventually would become ID.4 was initially revealed at the 2017 Shanghai auto show. Volkswagen updated the concept later at the Frankfurt Auto Show, indicating that it would launch the new electric vehicle line in the U.S. in the fall of 2020 or early 2021.
ID.4 Range and Power
When it hits the market, the Volkswagen ID.4 will have an 82-kWh battery sending power to a rear-mounted motor, pushing out 201 HP and 228 lb-ft of torque. The first models for sale will only have rear-wheel drive, but next year, a dual-motor, all-wheel drive variant will be available. This model will get a combined 302 HP, but with slight range reduction. For those with range anxiety, there's no need with the ID.4 as the range is expected to be around 250 miles. Charging is fast; you can go from 5 to 80 percent in 38 minutes using a 125-kWh charger. If you're not near a charger, the 11kW onboard charger can squeeze out another 33 miles in about an hour of charging. To sweeten the deal, all ID.4s come with three years of free fast-charging through Electrify America.
What Are Some of the Features?
The style of the ID.4 is a perfect blend of future-forward design with strong Volkswagen brand identity and fantastic aerodynamics. The car's interior is smartly designed with the future in mind, where minimalism is the rule. There's a 5.3-inch digital dash, a futuristic-designed cluster-mounted shift array housing drive functions, and buyers can opt for a 10- or 12-inch infotainment display. The ID.Light is an intuitive light bar that runs across the dashboard and communicates with you by giving acoustic cues for brake warnings, vehicle charging status, and incoming calls.
ID.4 comes standard with wireless charging, a full panoramic glass roof, four USB-C charging ports, a power tailgate with an easy-open gesture function, adaptive interior lighting, gesture controls, and wireless app connect. A complete array of driver-assistance features will be incorporated into the Volkswagen IQ.Drive package.
Buy or Lease a Volkswagen ID.4 When It Goes on Sale in Phoenix
If you're curious to know more about this exciting new vehicle, contact us or come into Camelback Volkswagen for more information. Volkswagen will allow you to reserve your ID.4 with a small refundable deposit.*
*As vehicle production starts, reservation holders will be invited to lock in their configuration and confirm their order with an additional fully refundable deposit. From placing a reservation to production and through delivery, customers can then track the status of their order and see when they can expect their ID.4 to arrive at the dealership. At that time, the customer can conclude the transaction with the dealer and complete the purchase. All deposits will be applied to the final purchase price. Contact us for more details.