Volkswagen Transmission Repair and Maintenance in Phoenix, AZ
Taking excellent care of your Volkswagen is necessary if you want to enjoy the maximum life that it offers and minimize the chance of having a breakdown. One of the many systems that require periodic service is the transmission. As the car runs, the transmission can become very hot. Between this heat and the friction that occurs between the transmission's components, substantial damage can occur if efforts to manage the heat and friction are not taken. Your Volkswagen's transmission operates well when it is properly lubricated by transmission fluid. This lubrication reduces friction and heat, but it can become increasingly dirty over time. Dirt reduces its effectiveness. Maintenance of the transmission is essential so that this and other potential issues can be headed off before they become problematic. For transmission service and other auto maintenance needs, the service center at our Volkswagen dealership is the place to go.
When Does My Volkswagen's Transmission Need to Be Serviced?
The general rule is to bring your vehicle into the service center for a fluid change or a transmission flush between every 30,000 to 45,000 miles. This equates to roughly every two to three years. Some vehicles have different guidelines recommended by the automaker, and these vehicle-specific guidelines should be followed in order to maintain your Volkswagen properly. The typical Volkswagen transmission fluid service involves replacing some or all of the dirty fluid and installing a new filter.
How Are Transmission Fluid Changes and Flushes Different?

Before you schedule service with our certified Volkswagen technicians, it is helpful to understand what the two main types of fluid services are. A transmission fluid change includes the replacement of the filter and the replacement of the fluid that is currently in the pan. Keep in mind that the pan's transmission fluid does not account for all of the fluid in the transmission. In fact, depending on the model, it may only account for approximately half of it. The other primary fluid service available is a flush, and this removes all fluid in the system. Fresh fluid and a clean filter are added. The first fluid service type is more affordable, and it is well-suited for vehicles that are serviced regularly as recommended by the automaker. If you are a Volkswagen owner who does not always make it into the service center in a timely manner, a flush may be a smart option to consider.
What Are a Few Signs That Indicate My Volkswagen's Transmission Needs to Be Repaired?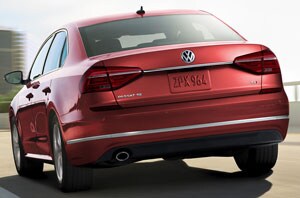 A significant transmission issue can leave you without a functional car until the repair work has been completed. This is a frustrating experience, and it can be stressful to deal with vehicle repairs and transportation challenges at the same time. Many transmission issues develop slowly. The driver may notice signs of trouble long before a full breakdown occurs. If the "Service Engine" light turns on, get the vehicle into our service center soon for a diagnostic service. You could also notice that the Volkswagen is jerky when it shifts gears, that fluid leaks from the transmission, or that there is a bothersome burning smell. We are committed to providing each customer with an excellent experience. Regardless of how minor or significant your vehicle's service needs are, we can help. Make your service appointment with our office today.
Service Hours
Monday

8:00AM - 9:00PM

Tuesday

8:00AM - 9:00PM

Wednesday

8:00AM - 9:00PM

Thursday

8:00AM - 9:00PM

Friday

8:00AM - 8:00PM

Saturday

8:00AM - 8:00PM

Sunday

10:00AM - 6:00PM