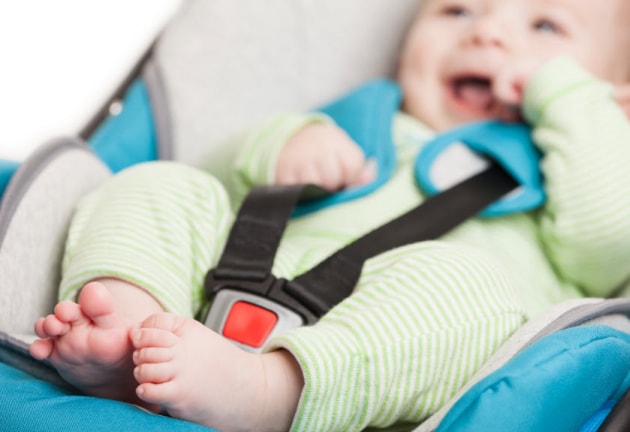 Soon it's going to get hot, hot, hot, and while some look forward to the summer sun, it does present a few problems for drivers – particularly parents with young children. When sitting out in the sun for even a short length of time, child safety seats can get scorching hot; and even when traveling, many parents want to find ways to keep their little ones comfortable and free of sweaty backs.
If you have young'uns and want to ensure they stay cool on the road this summer, try out these tips!
Pick a light color when choosing your child's car seat. Darker colors like black absorb more light, which translates to more heat.
Point rear air conditioning ducts toward your child. New car shoppers should consider models with rear air conditioning ducts that help provide greater airflow to backseat passengers.
Use a freezable child seat cooling mat. On hot summer days, this freezable mat from Cool Carats helps keep your baby's child seat cooled when you're away from the car running errands. Note that this product is not intended to use with the child in the seat; rather, it should be placed in when you're away from the car on hot days.
Tint windows to protect your little one from bright sunlight and UV rays. This is a must in cities like Phoenix and becomes even more important for those with young children.
Precondition the cabin before stepping inside. Many new cars and SUVs come with remote start and cooled rear seats, so you can get the interior and seat cushions nice and cold before you enter. Being right against the surface of the rear seats and in a cool environment, the child car seat will be perfectly prepped for your bundle of joy.
Use a breathable car seat liner. Options like Buy Buy Babies' Cool Mee seat liner help prevent heat buildup with fabric that allows air to flow through more easily.
Use a child seat shade to block out the sun. Last but not least, you can cover the seat entirely when it's not in use. There are several available child seat shades that come on and off easily, while doing a great job of reflecting the sun.