A properly operating vehicle AC keeps you cool, calm, and collected even when the sun beats down scorching temperatures. You'll enjoy each day to the fullest and won't mind getting behind the wheel to see and do all of the things on your agenda. But, there are many problems that can occur with the AC, causing less than peak performance or a completely malfunctioning unit. Do not let AC problems stand in the way of your cool comforts. Instead, schedule AC repair at the first sign of trouble.
Why Is My AC Leaking?
Many drivers endure AC leaks as their unit works overtime to provide relief from the heat in the most extreme conditions. There are a few causes of leaks, but they all result back to moisture buildup within the unit. When moisture builds, it causes gaskets and hoses to loosen and let fluids run through.
How Is an AC Leak Detected?

State-of-the-art AC diagnostic equipment ensures proper diagnosis and repair of your AC leak. Our certified specialists do not cut corners when it is time to repair your AC and use the best tools to aid in the process.
Why Is My AC Blowing Out Warm Air?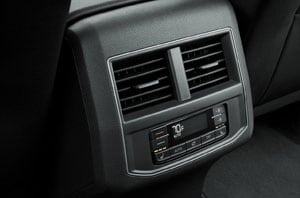 Warm air is not what you expect to blow out of the AC unit. When it occurs, it may be a minor issue such as low freon or something a bit more drastic, such as clogged expansion tubes or vacuum leaks. It is essential to schedule service with us to get an expert diagnostic evaluation that determines the exact cause of the problem. There is no time to play the guessing game when AC is on the line.
Why Is My AC Airflow Weak?
Weak AC airflow is a sign that a big problem is lurking underneath the surface. You certainly want to correct this problem quickly, so you do not swelter in the heat. Ventilation fan trouble, broken seals and gaskets, and evaporator unit buildup are some of the most common causes of weak airflow.
Should I Schedule AC Preventative Maintenance?
A yearly AC preventative maintenance check is the easiest way to prevent problems that keep you from enjoying the cool comforts of air conditioning in your car. Professionals inspect every inch of the AC, replace gaskets and hoses, charge the freon, and take many other measures to ensure the AC is at its best, ready to tackle the summer heat.
How Much Does AC Repair Cost?
Preventative maintenance services cost much less than a repair service. When the inevitable occurs, however, there are many factors that affect the cost of the repair. Rest assured it is a small price to pay to regain the comfort of a properly working car AC unit. Check out our service specials and coupons which are updated frequently!
Service Hours
Monday

7:00AM - 6:00PM

Tuesday

7:00AM - 6:00PM

Wednesday

7:00AM - 6:00PM

Thursday

7:00AM - 6:00PM

Friday

7:00AM - 6:00PM

Saturday

8:00AM - 4:00PM

Sunday

Closed