Where can I get affordable tires near me?
Whether you're looking for Volkswagen tires or a new set for another make and model, Camelback VW's tire shop in Phoenix offers a variety of products from numerous manufacturers, such as Goodyear, Michelin and Dunlap. Check out our service coupons to see if there are any current specials for tire service.
Because every driver is different, there is no service interval for getting tires changed. However, even if you drive very, very little you should have your tires replaced if they are approaching 10 years old.

Do I Need a Wheel Alignment?
Sometimes it can be hard to tell, which is why it's best to have a trained technician inspect your car. However, some common signs include uneven tread wear, pulling or drifting to the left or right, and noticing that your steering wheel is crooked even when you're driving straight.
It's recommended to get tire alignment in Phoenix when receiving new tires for your car or SUV, and you should have your alignment checked at a minimum of twice a year.
Signs That Your Tires Are Ready to Blow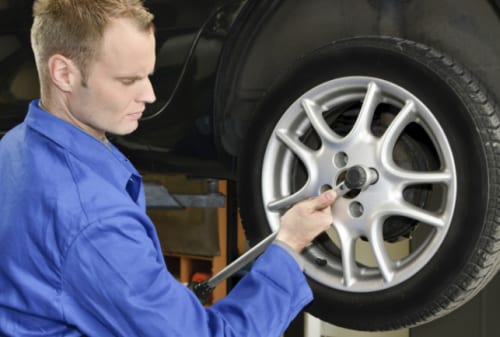 Tires are affected by a wide range of factors, including everything from crazy hot summer temperatures to potholes, speed bumps and old age. Along with having the mechanics at our tire shop in Phoenix check your tires, you should also keep an eye out for the following:
Cracks - some cracks merely run across the surface of a tire, while others run deeper; to be safe have a trained technician assess the damage
Bubble in sidewall - air is leaking out of the tire due to internal damage, usually caused after a driver hits a pothole
Vibration - this is associated with a number of parts issues, however if related to tires, it could mean your wheels are out of balance
Low or bald tread - if the tread is as low as 2/32" (or 1/16" like many rulers display), visit our Phoenix tire shop right away
Do I Need a Tire Rotation?
Like alignment service, rotations help protect the rubber on your car's tires. Because there's a variation in weight on your VW's front and rear axles, the tires need to be moved from front to back roughly every six to eight thousand miles or every six months. This ensures that certain tires don't wear out much faster than others. When you need a tire rotation in Phoenix, the mechanics at
our service center
can get it completed properly in no time flat. In addition, we recommend having your wheels balanced when you get your tires rotated.