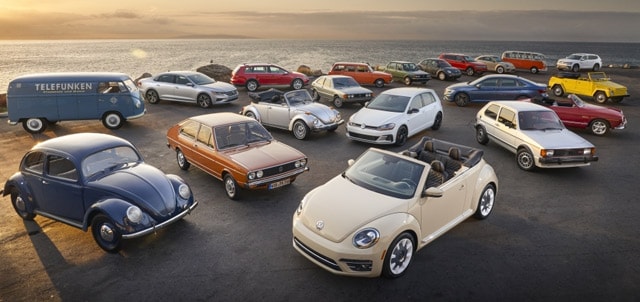 Volkswagens (People's Automobile)first became available in the US in 1949. This year marks the 70th anniversary of Volkswagen in America. To celebrate Camelback, Volkswagen offers this brief history of VW in the US.
Ben Pon
The first VW importer in the US was Ben Pon. The American consumer's response to the new import was that it was too small and too odd looking. After three weeks of unsuccessfully trying to find someone interested in being a VW dealer, Pon called it quits. Pon sold two VWs, one for just enough to cover an $800 lodging bill.
Max Hoffman
From 1950-1953 Max Hoffman became VW's importer for the East Coast. That same year Hoffman's import car dealership in New York City became America's first official Volkswagen dealership selling 157 VWs. By 1953 the demand for VWs in the US had become so great that VW became its importer to the US. Today "Hoffman VWs" (1950-53 model year) are highly sought after by collectors.
"The Bus"
The 1950s saw the introduction of the Volkswagen Type 2 or Microbus to American markets. The Microbus was the first van sold in the US. In pop culture parlance, Type 2 is "the bus."
The Karmann Ghia
Type 14 or Karmann Ghia debuted in the US in 1956. A sports car designed in Italy and hand-built in Germany the Ghia used the same running gear as the Beetle.
Volkswagen Group of America
To ensure the quality of service at Volkswagen, dealerships Volkswagen Group of America was established in 1955. By 1965, over 900 VW dealerships were under the VGA umbrella.
The Sixties And The Bus
Today the "bus" is as much a symbol of the 60s counter-culture as love beads and tie-dye. It was during that decade that Type 2 was given a new moniker, "the hippie bus." The bus has been ranked among the 20 most iconic vehicles of all time.
The 1970s
In 1970 VW had its best sales year in the US up to that point, with 569,696 units sold. This gave VW a seven-percent share of the US auto market. 1978 would see the discontinuation of the iconic Beatle and all rear-engine air-cooled VW models. The Beetle was reintroduced in 1998.
Volkswagen Today
To learn about today's Volkswagen vehicles, we cordially invite you to visit Camelback Volkswagen at 1499 East Camelback Road Phoenix, Arizona.